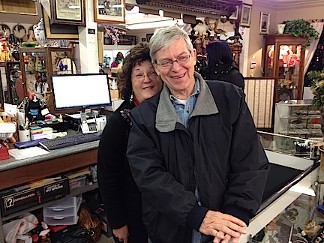 JoAnna & Myles
JUNE NEWSLETTER
Although, the beginning of Summer has several "starting points" from Memorial Holiday Weekend in May to Father's Day in June, here in Cambria we tend to view it when more visitors start coming into town on a regular basis, rather than the weather! So, it's a variable that's different every year. This year, that start was marked by the occasion of the prolific outburst of beautiful wildflowers that followed the return of a heavy rainy season here on the Central Coast.
Our dealers here at Rich Man Poor Man Antiques were up to the challenge as they continued to bring in quality and unusual items to display in their booth spaces here at our two mall areas! Scroll through the many photos we've posted here on our website. A reminder that we also have a layaway option available and can take orders over the phone. That comes in handy sometimes when you get home and realize you really should have purchased that item, after-all! We are always standing by to help in anyway we can!
Here's a quick update on the reconstruction of the bridge on Highway One way up in the Big Sur area... Although CalTrans is successfully moving forward on replacing the bridge that was damaged during the Winter rains, they now have another challenge to contend with. Recently, the top of an unstable mountain slid and left a section of Highway One, just a few miles north of the Monterrey County line, totally covered! This makes it an estimated year until the Northern section of the scenic highway will be open. Once that is done, the full length of the beautiful coastal drive will be available to enjoy, again. In the meantime, if you are coming from the north, it is easy to take Highway 101 down to Paso Robles, cut over on Highway 46 West, and turn north for about two miles on Highway One. That's all it takes to find yourself in our beautiful little bit of paradise! Coming from the south or central portion of California ... no change in your route. So, there's no reason to alter or change any plans you may have made before the bridge problem on Highway One. Just be aware, and plan your route accordingly. We are here and we look forward to seeing you here, too!
Remember, when you are in Cambria there are a lot of other things to do during your stay. Moonstone Beach: search the sand for those milk-white Moonstones... or enjoying a relaxing glass of local wine as you watch the sun set... or seeing what our California State Park system offers. Enjoy day-parks to overnight camping to Hearst Castle, the hilltop estate of the late wealthy publisher, William Randolph Hearst. Tours of the estate, including ADA Accessible tours and Evening Tours are available, but you should go on-line or call the ticket office in advance to secure your tours, so you won't be disappointed! There are also the beautiful coastal vistas, the fascinating Elephant Seals in their protected beach habitat 4.7 miles north of Hearst Castle, the 1875 lighthouse (which now provides an on-line site where you can buy tickets for their guided tours... go to http://recreation.gov and search for "Piedras Blancas"), and of course, the great wine country, shopping, restaurants, and antique stores in the coastal towns from Cambria south to Pismo Beach and East to Atascadero and Paso Robles! It's all here and Cambria is your starting point at the top of the Central Coast map. So, drop by and say "Hi"!
Please remember: WE LOVE PETS! Yes, it's OK to bring your leashed pet-shopper in with you while you shop! If you're comfortable, we're comfortable! For a look at who's been here, click on our Pooch Page! We look forward to seeing you soon and thank you so much for your friendship, patronage and support!
JoAnna and Myles