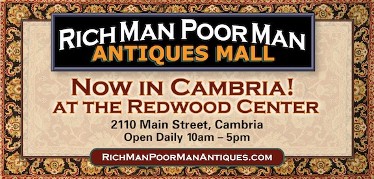 Yes! We're Pet Friendly!
2110 Main Street, Cambria, CA 93428 ~ 805-203-5350 ~ Open everyday 10 till 5.
Browse our many dealers on the large main floor and the unique second floor RMPM Loft. Plus, if you like architectural and garden/patio pieces, see the special outdoor section. Also, see the Main Street Showroom with many more quality antiques and fine art pieces. Come relax, browse, and enjoy!
Click to see what's in our large Antiques Mall! Click to see more in our Main Street Showroom!